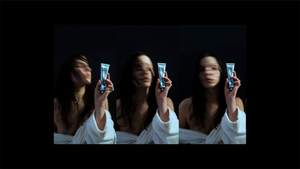 Otherworldly moisture from the industry's only non-greasy, breathable occlusive



Water is the best and only ingredient that actually hydrates dry skin. The objective of an effective moisturizing layer is to keep this hydration locked in.

Enter Water Lock: a first-of-its-kind, non-greasy occlusive designed to be used on saturated skin, and to stop water's immediate evaporation.
Gentle occlusion for all skin types



Water Lock's semi-permeable barrier ensures your skin retains water while enhancing the performance of your anti-aging and rejuvenating products applied underneath.

Suits all skin types — dry, oily, sensitive, or acne-prone
Light, velvety gel-balm texture
Fragrance-free
100% recyclable aluminum tube