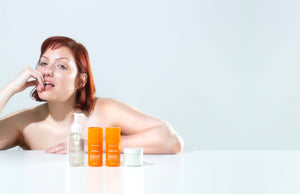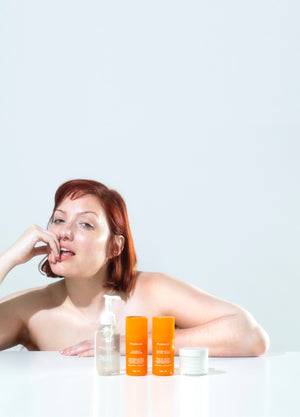 Radically potent,
bio-optimized
skincare.
The original, award-winning Advanced Renewing routine.
New here?
Try the full, revolutionary line...in tiny, 30-day travel sizes.
Contains the entire 4-product line including the 2021 Grooming Award Winner for #1 Retinol, Vogue's Best Vitamin C serum––along with the clinical-grade resurfacing cleanser and molecularly nourishing moisturizer.
"Protocol is making radically potent, effective formulas its top priority."
Breakthrough packaging technology
Ingredients are only as good as the bottle that contains them.
We call our airless, UV-proof FDA-quality packaging our "little orange ingredient fortress." The inner SpaceFoil pouch compresses with each pump to ensure a sealed one-way flow of product. The pump dispenses 62, precise, 0.5mL doses ensuring you get full coverage over 60 full days.
This odd little rule-breaker has set a new standard for ingredient integrity and purity.
In case this kind of thing is important to you: